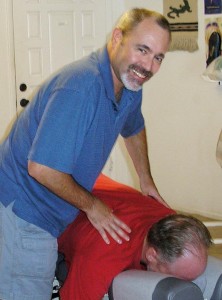 Most people first see a chiropractor because a friend or family member told them that chiropractic visit had given them immediate relief in the past.  Often they come in suffering with joint, back,  neck, shoulder or knee pain.  But did you know that a good chiropractor can often provide relief for those suffering from fibromyalgia, asthma, TMJ (pain in the jaw), or even migraines?  Dr. Andrew Altman is a Doctor of Chiropractic that has been treating these and other disorders affected by the musculoskeletal and nervous systems for over 15 years.  He's seen amazing results during his career.  But why take our word for it?  Read the stories his patients have shared in the comments section below.
Patients: SCHEDULE AN APPOINTMENT, use our contact page to speak to the doc, or share your treatment story with our readers in the comments section below.
Haven't seen a chiropractor before? Learn more about Chiropractic treatment here.
Are you a health care practitioner or know of someone who offers services that complement chiropractic care? Contact Dr. Altman to discuss working together to help patients. We are looking to expand our services.